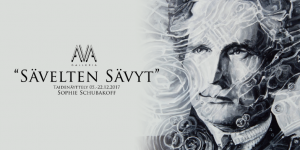 "Shades of Music"
Homage to Yrjö Kilpinen from his granddaughter Sophie Schubakoff.
Finland 100 year celebration.
     "Shades of Music" is the fruition of my desire to unite Art and Music as the two elements of my passion that have been always present throughout my life. My roots are in Finland and now I have found a way to join all three together in a way that is deeply personal, exciting, and serendipitous.
        This year 350 of Yrjö Kilpinen's lost Lieds have been re-discovered, 25 of which have been released by the Kilpinen Society for his 125th anniversary, Finland's 100th anniversary and the flag song "Lippulaulu".
      In collaboration with the "Uusia Lauluja" CD, this was an opportunity to explore these Lieds that haven't been heard in decades. This was the moment to interpret and re-invigorate these compositions with my contemporary signature style of painting. As Yrjö Kilpinen arranged poetry into his music, I have aspired to follow his method, by arranging his Lieds into my paintings. This series is intertwined with a personal exploration of my roots to get to know my grandfather through his musical legacy, which is all that is left of him.  I hope to share a deeper connection through creation, between him and I, his sound and my vision.
       Each painting is paired with a forgotten Lied that was its source of inspiration. Unlike a conventional exhibition, I want the participant to sense these combined visual/musical shades in an environment that is timeless and intimate.